The bridge between East and West, where Europe and Asia meet. "If the world were a single state, Istanbul would be it's capital" – Napoleon Bonaparte.
Back in 2016 I saw Istanbul for the very first time. I fell in love. Istanbul is located on both sides of the Bosphorus, the river that divides the European and Asian continent. From a history point of view, Istanbul (the capital of the Ottoman Empire, also known as Byzantion and Constantinople) has been one of the most important cities in the world. Her strategic location allowed the city to play a big role on the historic Silk Road, an ancient network of trading routes. Nowadays Istanbul is one of the most favorable tourist destinations and the city has grown to a population of roughly 15 million inhabitants. When traveling to Istanbul by rail, you're bound to experience one of the most thrilling nights on a train!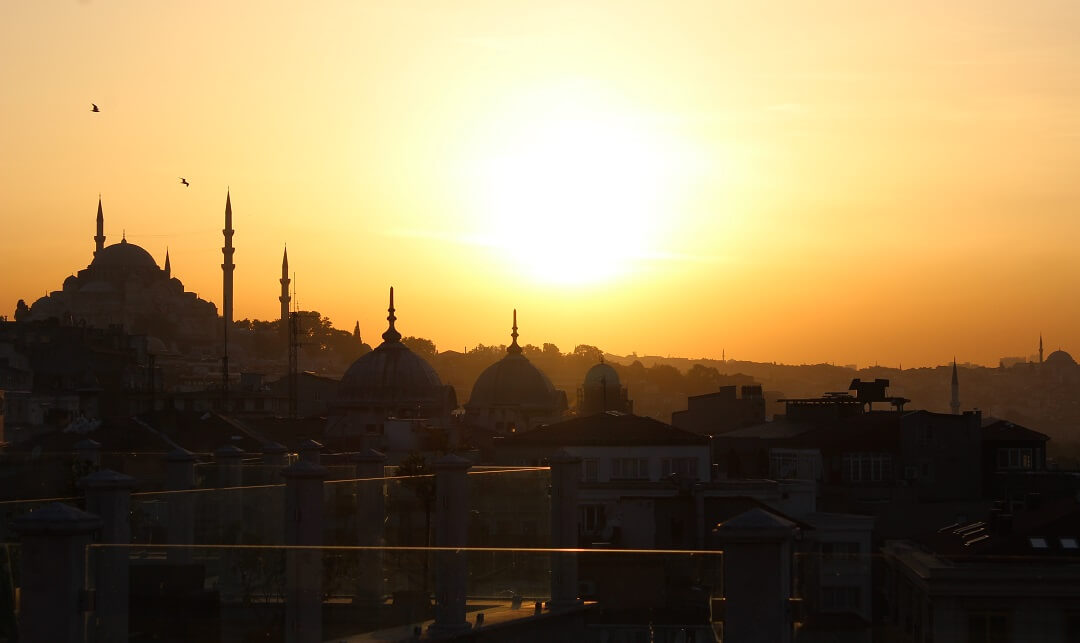 The Bosphorus Express
The famous Bosphorus Express is a night-train that runs daily between Bucharest and Istanbul. Together with the Balkan Express that comes from Serbia they provide thé experience to travel from all over Europe towards Istanbul. Nowadays these night-trains have lost a big part of their original glory, as part of the routes are now being covered by buses due to necessary rail maintenance. Best of all: no-one seems to know for sure what the situation will be on a given day. There have been times that the night-trains only go untill the Turkish border. Nowadays it is more common that the night-trains go all the way to Halkali, a suburb of Istanbul. Either way, these 'hickups' along the way make for an adventurous night.
While traveling from Bucharest to Istanbul, which takes a whopping 19 hours I stumbled upon a group of people that had the same nationality as me! They were also going to Istanbul and they had the same question in mind as I: 'how do we get there'? The female ticket inspector in Bucharest wasn't even aware of a train going to Istanbul. All she could do was deny her existance. I knew, after extensive research online, was that we would have to make various transfers along the way. And if we would miss one connection that would mean that we were stuck there untill the next day. It turned out that the train we boarded was going to Sofia, the capital of Bulgaria. Somewhere along the way we had to make a transfer on a train to Dimitrovgrad, eastern Bulgaria. In Dimitrovgrad we could then catch up on the Balkan Express to Kapikule, a border town in Turkey. Finally from Kapikule we would be put on a bus that dropped us off in Istanbul.
Trouble!
It turned out that my research was spot-on. Without any issues we arrived in Istanbul, extremely tired. As soon as you cross the border with Turkey, around 3 AM, you need to go to the passport control. Once you are done you are allowed to walk to the bus and wait for it to depart. Now, after some days staying in Istanbul – which you can read about after this section – it was time to go towards Bulgaria. I left istanbul with 2 other people who kept me company, both speaking English very well for a change. They wanted to go to Bucharest, and I was going to Sofia: our split up point was Dimitrovgrad. In Kapikule we had to change to the train to Dimitrovgrad, in which we sat together trying to ignore all the people that wanted to sell cigarettes to us. At some point when we were all in relaxed state (feet on the adjacent seats… oh oh oh naughty us). Suddenly there is this massive bulgarian ticket officer pointing from outside to one of us very angry.
It turns out that he does not like that our feet were on other seats – so he starts boarding the train! We were like oh oh.. whats going to happen? Luckily I had folded a blanket underneath my feet so he instantly approved my situation. He tried to give the other guys a speach in his best English (very limited vocabulary), and my other companion starts laughing… 'NO SMILE NO SMILE'. Now imagine a massive bulgarian guy being very angry at us.. adventure! Well, it turns out that he's a soft sweet little kitten.
Stuck with the conductor..
After the other guys put something on the adjacent seats for protection he came to sit with us. In the middle of the night we had conversations for a few hours in sign language and limited English with this massive bulgarian guy. He even added me on Facebook!! We  took pictures all together, but it was not allowed to publish them online because his boss would get angry. To summarize the conversations: not a good job, no money. One of my companions tried to convince him that he should go to New York, but obviously he had no money. In the end his life dream would indeed be go to New York and marry with an American women.
This went on for hours and we were asking ourselves how long is this going to go on? We al wanted to sleep, but the now very happy massive bulgarian guy was extremely delighted that we had a sort-of-like conversation. Meanwhile I went to the bathroom, and when I got back the other 2 guys looked utterly shocked. What happened? The happy massive bulgarian guy asked his boss on the train if he could travel with the other 2 passengers to Russe (border of Bulgaria/Romania), instead of leaving in Dimitrovgrad. Afterwards I was able to sleep for a few hours. I still wonder what happened to the other 2 travelers.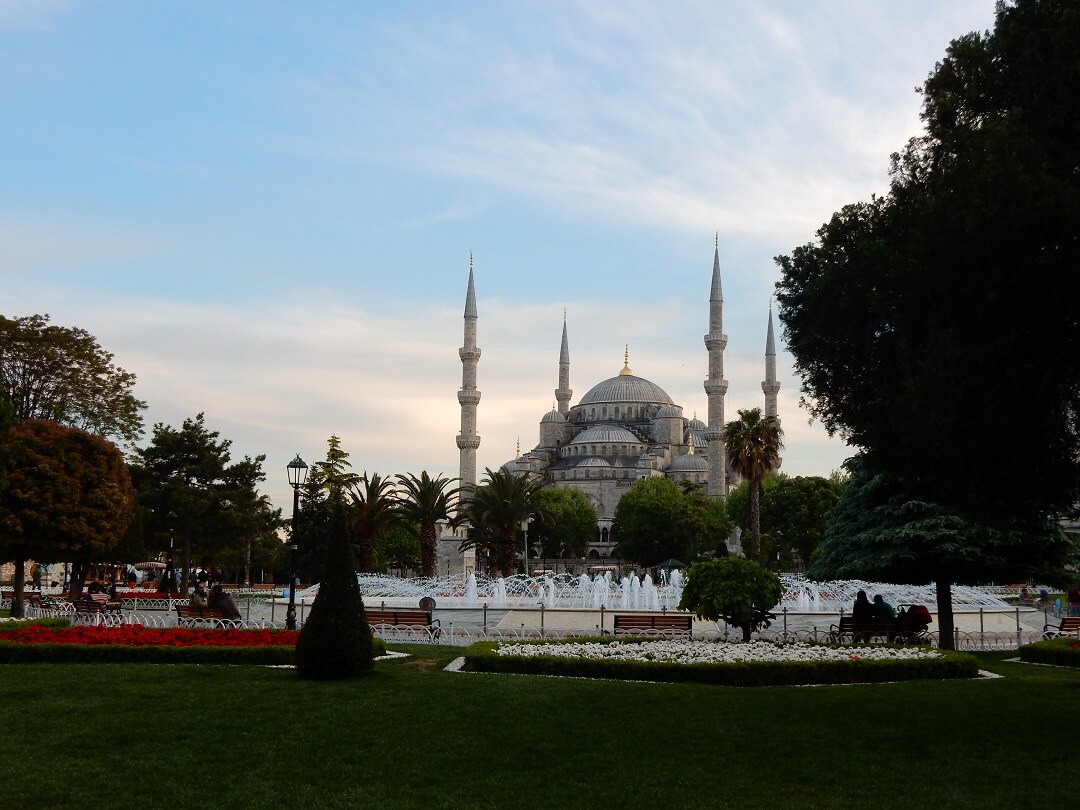 Istanbul should be on anyones itinerary..
The city is mostly known for its Byzantine and Ottoman architecture, which makes it unique compared to other parts of Europe. Examples of these stunning masterpieces are the well known Topkapi Palace, Sultan Ahmed Mosque (The Blue Mosque) and the Süleymaniye Mosque. The Ottoman influences can also be found in the delecious Turkish cuisine, for example the many different styles of kebab. Fried Veggies such as Eggplant, Tomatoes and Peppers in combination with (or without) yoghurt cannot be missed in many Turkish dishes. All mosques in Istanbul do not require an entrance fee. Tourists are more than welcome to admire them from the inside. The Blue Mosque is a very popular and crowded mosque. While you can roam around the Süleymaniye Mosque,which is not in the city center, almost on your own. Ever heard of Istanbul's Yerebatan Sarnıcı? It's an underground water reservoir and is a wonderful visit to escape the hot and crowded center. There is so much to see, do and taste in Istanbul. Although it takes some effort to reach Istanbul over-land, it's a must on anyone's itinerary.
Going beyond Istanbul..
Getting tó Istanbul is an adventure on it's own – but also getting away from Istanbul further into Turkey is quite the experience. There are no through-trains from the European continent into the Asian continent. Currently train-tracks are being constructed underneath the Bosphorus, but this might still take some time. If you want to go further into Turkey you need to go to Istanbul Pendik. Pendik is the high-speed station of Istanbul with trains in the direction of Ankara. To get from Istanbul Sirkeci (European continent) to Istanbul Pendik (Asian continent) one needs to take the Marmaray to Ayrılık Çeşmesi. There one can meak a transfer on the subway to Pendik. Then it is a 10 minute walk Istanbul Pendik YHT station (walk down-hill). The high-speed train will bring you in 4 hours straight to the heart of Ankara. From there the whole Asian continent opens up to you: with travel possibilities in the direction of Armenia, Georgia and Iran.
Update: There are now suburban trains throughout whole Istanbul, going underneath the Bosphorus, every 15 minutes.
Pro tip! Have a look at ho(s)tel accomodation in Istanbul. Affordable accomodation, with last-minute cancellation in the middle of your travel locations! Check out my booking accomodation section to save on travel costs.