There is no better place to explore the rich history of the Hellenistic and Roman Empire than Greece. Athens is thé cultural hot-spot for antiquity! 
Back in 2016 I planned on going to Athens. Athens is world-wide known for it's rich culture, stunning architecure and endless amounts of history. So how could anyone not want to go? The main issue was… getting there. I have now traveled to Athens twice – and I can't get enough of it! However both journeys proved to be adventurous, exciting and unpredictable. Luckily Greece is absolutely gorgeous, so even though the journey has it's ups and downs – once you've seen the treasures that lie ahead you will enjoy every single second to it's fullest.
Going to Athens
During my first solo travel through Europe I stumbled upon my most "inexperienced" moment in life – a point where I lost complete control. A feeling that I have never experienced before. I had a goal in mind: visit all 30 capitals of Europe that you can reach with Interrail, and Athens was number #14. Up to then my whole trip was absolutely beyond expectation, and due to excellent planning everything went exactly according to schedule.
I took the International Train from Sofia, the capital of Bulgaria, to Thessaloniki. In Thessaloniki I would have a 50 minute transfer on the Night Train to Athens, where I would then arrive at 5 AM in the morning. The train was completely packed with people, but I was lucky enough to have a neighbour of my age that spoke English. At some point he pointed out to me that there were rumors of the railway company going on a strike. He also indicated that it would not be a big deal for me as it would start after I would have already left Greece. As soon as we crossed the border news reached us that the planned strike was in effect immediately. Shutting down all public transportation in Greece.
Stuck in Thessaloniki
So there I was, on some shitty border station and the only destination that I could still reach with this train was Thessaloniki. According to the non-English speaking conductor: no train no bus, no. I could not do anything besides the obvious: give up and accept that I could not get to Athens. Thereby not reaching my goal of this adventure. I would have to stay over-night in Thessaloniki and wait for the bus to Macedonia that I would catch the next day. After a while the conductor came back: Thessaloniki out, bus.
What was I supposed to do? Apparently there was a bus replacement to Athens, but how would I be able to get back from Athens to Thessaloniki to continue my journey? Again.. what was I supposed to do? Another Greek traveler said that I was lucky that there was a form of train replacement, probably because they had just announced it and were enforced by law to get people home. He said that during the rest of the strike there was for sure no replacement! Hence the most "unpredictable" moment in my life.
I decided; screw it – I'm going. Together with a German traveler we pushed ourselves forward between a massive amount of people to the bus. Even the bus-driver did not know where he would be going to; Athens? Yes – ok we went in the bus. Few moments later: Alexandroupoulis? No? OUT! A few minutes later, while we were still fighting for a good position near the entrance of the bus: ticket controls and yes the bus would hopefully go to Athens. Weirdly enough I've slept throughout the whole night. When I finally woke up I had obviously no clue where I was.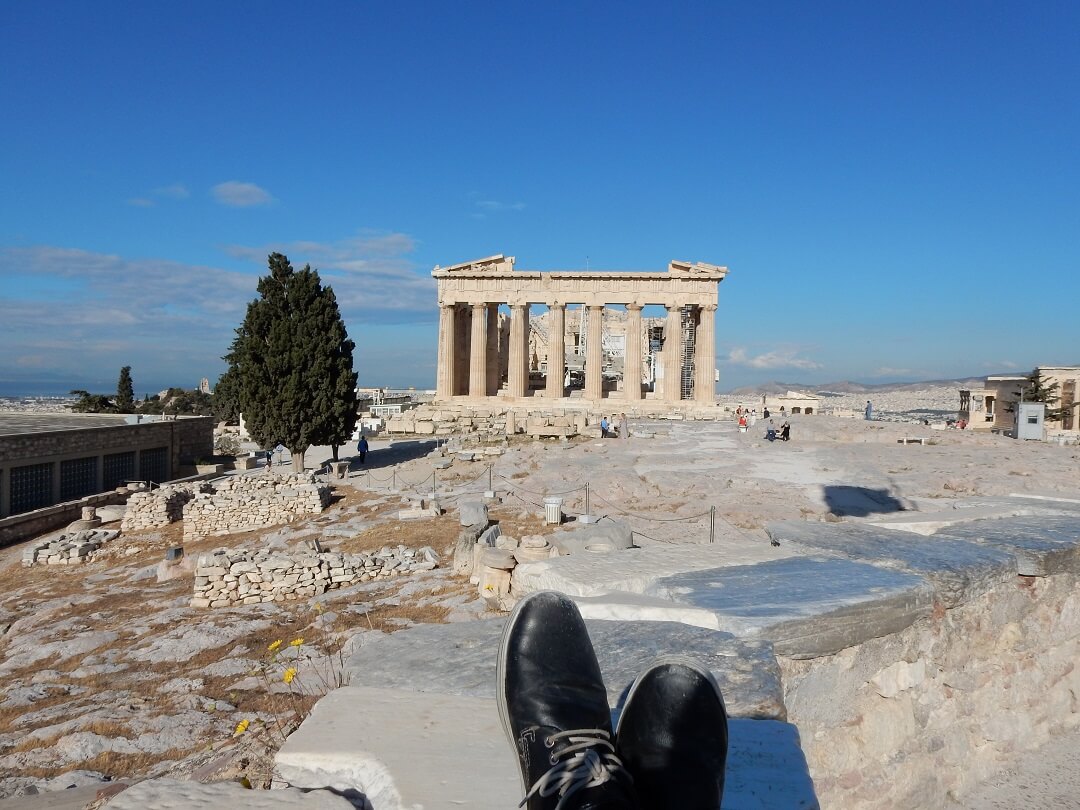 Running up and down the Acropolis
It turned out that I had arrived in Athens, at 6 AM in the morning. I made a quick planning of what I wanted to do, and stopped meanwhile at a hotel to ask if there were any buses to Thessaloniki with private tour-operators. They gave me an address, and I decided to take my chances and would try to catch a bus around ~10 AM (this would give me enough time to catch the bus in Thessaloniki to Macedonia, leaving at 5:30 PM – since the bus is much slower than the train).
Instead of being in Athens for around 5 hours, I had only approximately 2 hours left. At 8 o'clock I was at the Acropolis and I've climbed it all the way up, with my massive backpack. All I could say then is that the Acropolis was absolutely mind blowing; marvelous architecture… with astonishing views over Athens. I arrived at the address that was given to me at 9:25 AM, where I got one of the last tickets ($$$) available for the bus to Thessaloniki at 9:30 AM. I was unbelievable lucky. With 1 hour to spare I arrived in Thessaloniki… after one of the most intense 24 hours of my life. I had left Athens in a rush – but I promised myself: I will definitely once go back. Traveling is not always predictable, but looking back this may now be one of my most cherishable experiences.
Going back!
As you can imagine my heart was aching to get back to Athens. A mere 2 years later I was at the exact same spot as back then. Once again I took the International Train from Sofia to Thessaloniki, where I could have had once again have a 50 minute transfer on the Night Train to Athens. This time however I had an intermediate stop: Kalambaka. Anyone traveling down towards Athens should have this place on their bucket list. The trains in Greece tend to hold to the "Greek timings" rather than the "scheduled timings". My train from Kalambaka to Athens arrived roughly 1 hour later.. That was quite upsetting given the fact that it was supposed to arrive in Athens at 22:12 – quite late.
That day, exploring Kalambaka, was hot and exhausting and I was so eager to take a shower. I had booked an Airbnb in the centre of Athens. It was only a 15 minute walk from the train station. My host was still waiting for me. Fortunately I had let her know that I would be running late. Finally… a cold shower… airconditioning…! (Un)Fortunately the following 3 days were equally hot as in Kalambaka, around 30/35 degrees celsius, not a very suitable temperature to go walk up towards the Acropolis.
Highlights
As one of the oldes cities in the world, Athens offers you quite a lot of remarkable history. The Acropolis ("highest point") would be my highlight (although it is very crowded with tourists). The ancient citadel of Athens also has quite some additional sights; such as the Theatre of Dionysus – which could host more than 17000 people back then! Much of the ancient sights in Athens have been heavily damaged over time. If you take the time to wander around you can fill in the gaps with your imagination. It doesn't happen often that a city can entertain me for 3 days. And it is a very rare occassion for me to enter a museum. I went to the National Archaeological Museum in Athens. An absolute lovely location given the fact that the museum has airconditioning. The museum is considered to be one of the greatest museums in the world. Eve I have to admit even I liked strolling around. Athens is absolutely amazing.
After 3 days of defying the heat it was time to head toward the coast and enjoy the sunny weather from within the Mediterranean Sea. From Athens I planned on going to Patras. Due to extensive rebuilding of the tracks between Athens and Patras the train would only bring me as far as Kiato. In Kiato I had an hour transfer on a replacement bus to Patras. Instead of waiting at the station I decided to walk 15 minutes towards the beach. This was one of the most stunning beaches (with an amazing backdrop) that I have ever seen… and I was completely on my own! It almost wanted me to wait an additional hour to take the next bus… but my ticket didn't cover that.
Cooling down
While being in Patras you better go for a swim, as there is not much else to do! So that's what I did, untill a thunderstorm forced me out of the water. That evening, after watching one of the most prettiest sunsets ever, I went on to my next destination: Lauterbrunnen, Switzerland. Now, how does one go from Greece to Switzerland by train? Well, you can do it with a single travel day if you travel by Interrail. WHAT?
Whenever you board a ferry thats valid (free or discounted), you only have to write down either the departure date or the arrival date. This allows you to have some additional travel on your preferred day. I took the ferry from Patras to Venice, departing 23:59 in the evening with a scheduled arrival at 07:30 in Venice, 2 nights later. This ferry is intended to bring you from point A to B with the least amount of luxury that they could permit. However – if you do not expect anything at all, even though you have to sleep in a seat for 2 nights, you will be amazed by how much you can enjoy the journey.
Pro tip! Have a look at ho(s)tel accomodation in Athens. Affordable accomodation, with last-minute cancellation in the middle of your travel locations! Check out my booking accomodation section to save on travel costs.