Want to know how to travel through Turkey across the Hopa / Sarpi border to Georgia? It's an amazing itinerary for the adventurous traveler!
When you are traveling this way you have to board the Dogu Express. This immensily popular train brings you all the way from Ankara to Kars. Travel the way the locals do! Kars, close to Armenia and Georgia, is thé travel hub in Eastern Turkey.
Dive into Turkish culture, visit the ancient Armenian capital Ani and travel through impressive mountains and beautiful scenery.
Traveling from Turkey to Georgia
The route from Turkey into Georgia is absolutely amazing! The landscape is constantly changing in color as well as in style. To begin with, if you start in Istanbul you will first travel along the pretty Sea of Marmara.
Then going beyond Ankara you will stumble upon endless amounts of green grass similar to the highlands of Scotland. And finally when you make your way to the Georgian border at Sarpi, you will go through never ending amounts of mountains and river gorges.
Already the scenery itself is worth the journey! Traveling from Turkey to Georgia requires a combination of High-Speed trains, Night-Trains, buses and walking! And below you can find all the details of how to do this.
---
From Istanbul to Ankara
If you want to travel from Istanbul to Ankara you have to cross the Bosphorus, the river that divides the European and Asian continent. Simply hop on a metro between Istanbul Sirkeci Station (Europe) and Istanbul Söğütlüçeşme Station (Asia) which go roughly every 8 minutes.
Between Istanbul Söğütlüçeşme and Ankara there are High-Speed trains which depart every 2 hours. Over the coming years more improvements will be made to the High-Speed Railway network reducing the travel time between Istanbul and Ankara to approximately 3 hours. Also, the Turkish Railways will introduce a Night-Train soon. So you can save on accomodation costs! Best of all, a ticket (doesn't matter when purchased), costs only 70 Turkish Lira's (TL).
Oh! To use the metro system it's recommended to buy an Istanbul card. Individual tickets can also be bought but then you need the exact fare in coins (11 TL).
---
From Ankara to Kars
The famous Doğu Ekspresi runs every day between Ankara and Kars. You should definitely take it! The train is extremely popular, filled with locals, and it takes roughly 24 hours. Furthermore, this nostalgic train slowly crawls through the endless landscape of Eastern Turkey, offering some splendid views of the mountain ranges.
If you want to visit the famous Cappadocia you may want to step out at Kayseri. From Ankara this train departs at 18:00 and from Kars at 08:00. My advice would be to buy one of the limited sleeper tickets and relax over-night. A regular ticket costs around 50 TL and a sleeper ticket costs around 65 TL. Do keep in mind that this train is extremely popular and most of the time completely full!
Good to know: you can buy a ticket in advance at tcddtasimacilik.gov.tr.
---
From Kars to Batumi
The best route from Kars to Georgia goes via Batumi. There is also a daily bus between Kars and Tbilisi, but there are numerous reasons why you shouldn't want to take that one. Firstly, it takes over 2 hours to cross the international border. Secondly, you simply don't want to miss out on beautiful Batumi!
Every day there is a mini-bus between Kars and Hopa. You can buy a ticket online for 85 TL. From Kars the bus departs here, at 09:30. From Hopa the bus departs here, at 10:30. The trip takes over 7 hours and does not follow the online timetable. However, the scenery is absolutely amazing. Between Hopa and Sarpi you have to take a mini-bus which departs/arrives here, whenever it's full. Between Sarpi and Batumi it's best to hassle a taxi fare.
Check out these 10 must-knows of Georgia before you cross the border.
---
The Georgia Travel Guide Map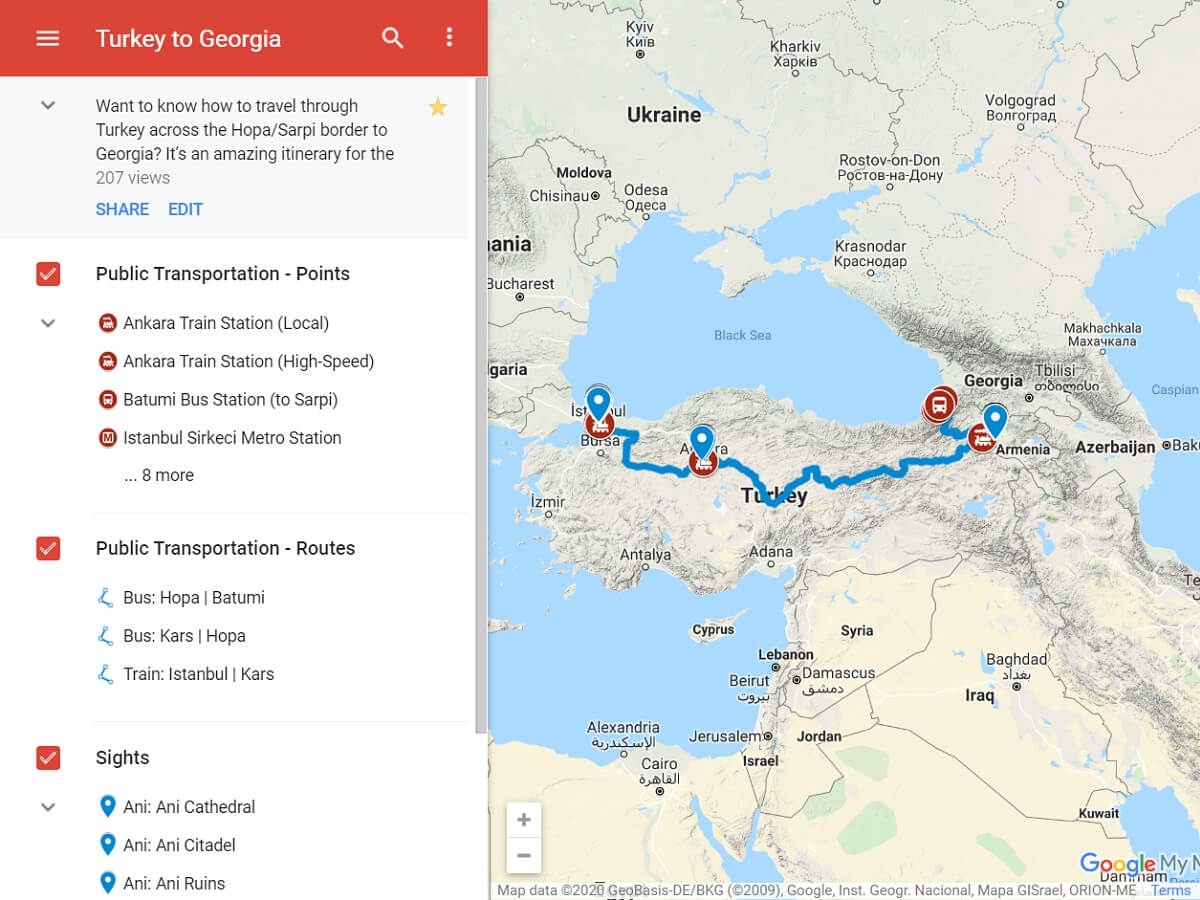 ---
Back to Traveling to Georgia