Top 10 things to do in Tbilisi. Find out the best things to do and the most beautiful sights in this city! Sightseeing in Tbilisi is absolutely amazing. 
The capital of Georgia, Tbilisi, is an absolute gem. Did you know that Tbilisi translates to "warm location"? It's because the old town is located on top of sulphuric hot springs.
Top 10 things to do in Tbilisi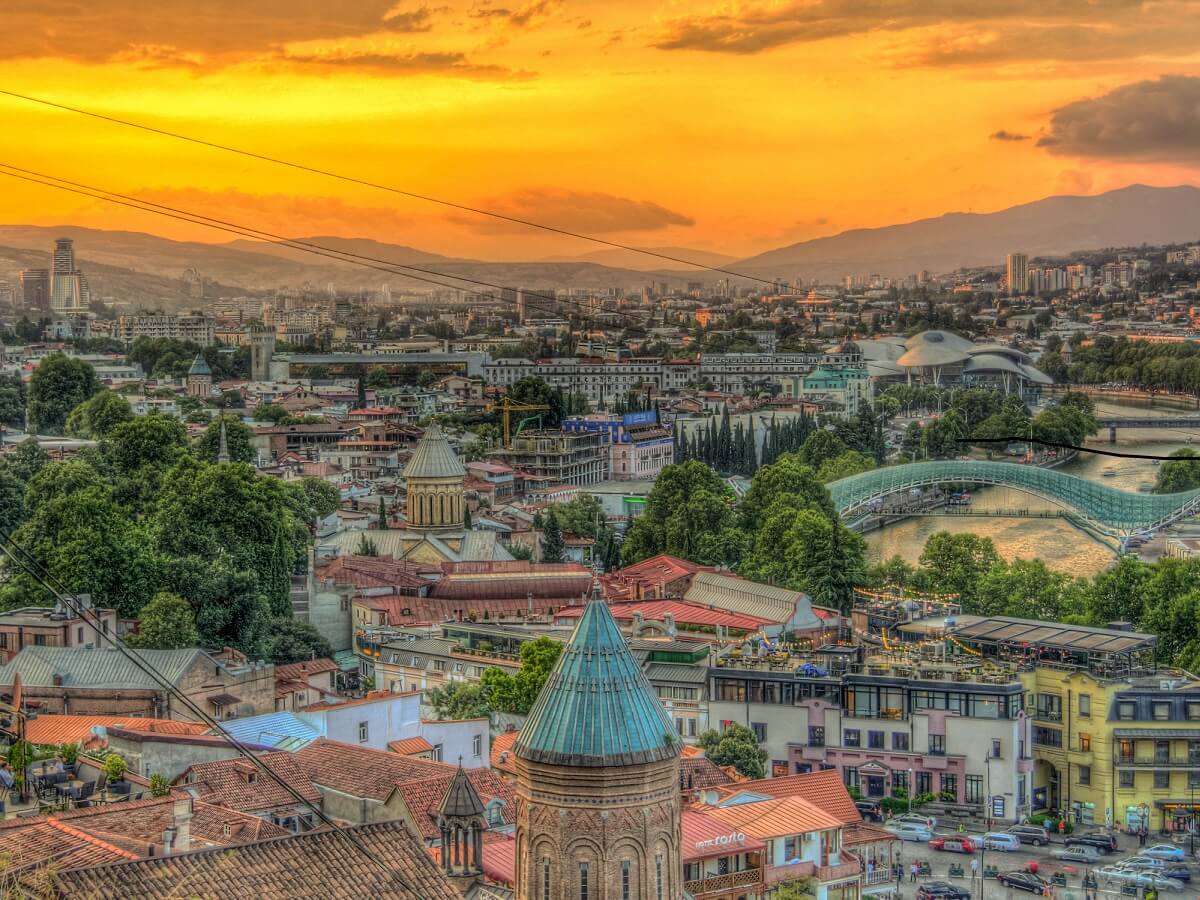 Number 10 – Rezo Gabriadze's Theater
This amazing little tourist attraction can be found in the middle of Old Town Tbilisi! A recently built unique clock tower serving as a Puppet Theater. So when in Tbilisi it is best to look up the timings of the puppet show "The Circle of Life". It's for free! And don't forget to look at the details of this amazing piece of architecture. For example, you can look up the weigth of the Earth and you can see the exact time from both the biggest clock as well as the smallest clock in Tbilisi. Be prepared however to have to move through flocks of tourists, it's quite the attention grabber.
---
Number 9 – Hidden pre-Soviet architecture
During the Soviet reign of Georgia nearly every piece of Tbilisi was demolished (which happened in the past more than once as well). There is an amazing, off the beaten path, pre-Soviet piece of architecture still standing in Tbilisi. Do learn about the unbelievable story of the "Blue House".  During the Soviet era this house was spared because a family member was the private doctor of Joseph Stalin! On his request, the property survived the ruthless redesign of Tbilisi. There's a lot more to get to know on this story. And if you're lucky enough you might stumble upon the lady of residence herself! She's more than happy to invite you in and show you around at No. 54 Rustaveli Avenue.
---
Number 8 – Explore the Sulphure Bathhouses
The city of Tbilisi is bound to her sulphuric hot springs. A legend says that ancient Georgian king Vakhtang Gorgasali accidently stumbled upon these hot springs and decided to build a city around it. Nowadays this district is called Abanotubani. Cruel conqueror, Agha Mohammad Khan, the Iranian King, believed that these majestic hot springs could cure his "disease". The poor King was castrated when he was a young adult. He was convinced that the miraculous properties of the water would grow back his "manhood"! As a result, Tbilisi was once again completely demolished. Nowadays one doesn't need to worry that much about eunuchs invading Tbilisi. So visit one of the miraculous sulphure bathhouses of Tbilisi and settle upon a price that'll bring you total relaxation!
---
Number 7 – Buy fresh made bread
When visiting Tbilisi you should take it easy and relax. Get some good sleep and don't wake up before 8. Because the best bread you will ever taste is not made in the early morning. Head to the closest artisanal bakery around 9:30 and buy your loaf of bread for about 1 Georgian lari. A big tip: start nibbling from the bread while it's still hot. Head to a local park and soak up the sunshine with your amazing delicious breakfast.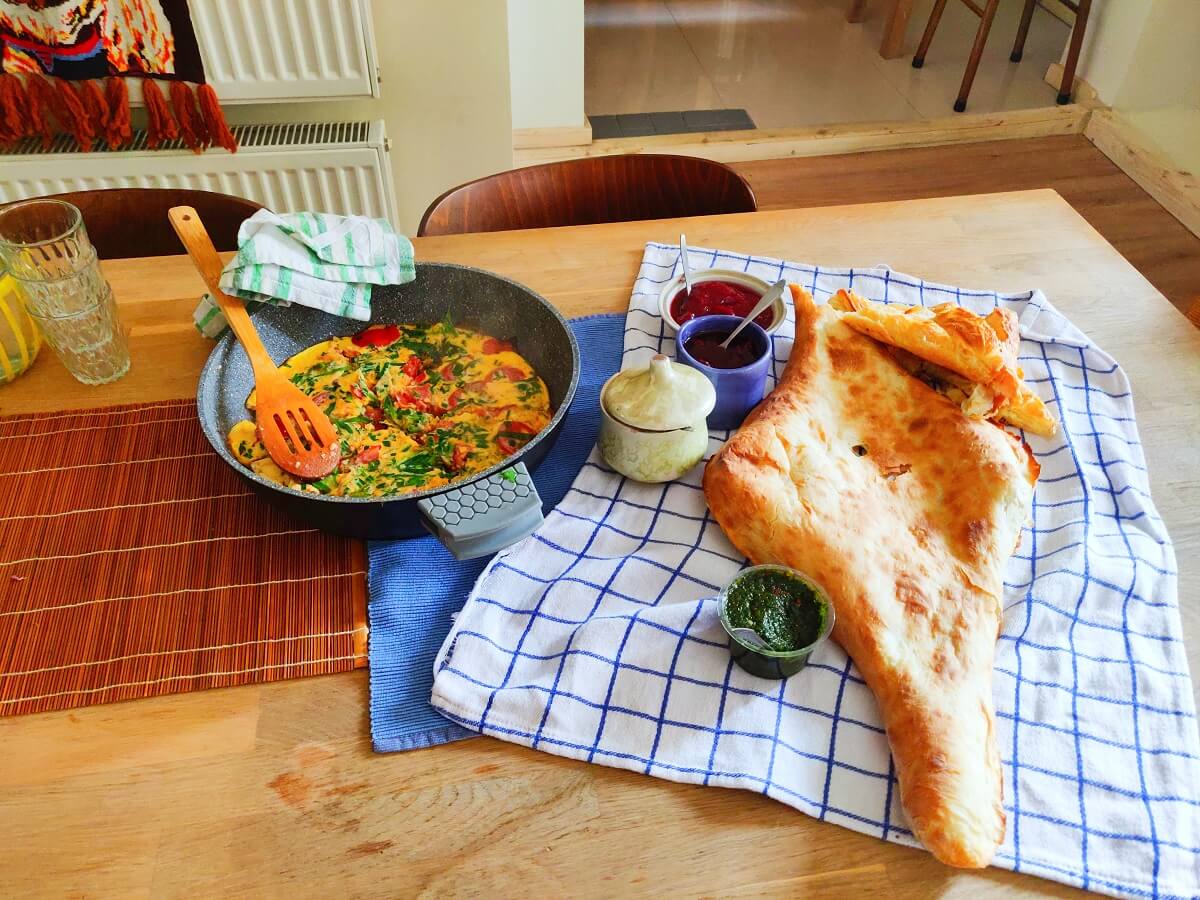 ---
Number 6 – Hike up the Narikala Fortress
Beyond the center and the old town of Tbilisi you will find a big hill. On this big hill you will see an ancient castle overlooking the city. To explore you need to find a path, behind the sulphur bathhouses, that will lead you up to the Narikala Fortress. From there you have an amazing view over whole Tbilisi. Be careful when climbing the fortress walls! There is no railing where you can hold on to. Behind the Narikala Fortress you will find the botanical garden of Tbilisi, the perfect place to relax and enjoy nature. Also, on the other side of the Mtkvari river, near Europe Square, you can find a cable car that'll bring you up to the Narikala Fortress if you don't fancy hiking.
---
Number 5 – Tbilisi's Flea Markets
These Flea Markets together are massive! They are almost a daily practice and you can find them near the Dry Bridge. These markets cover whole of Dadaena Park and it's stuffed with antiquites! You can literally find anything there, from 100 years old Soviet passports to handwoven carpets. Paintings, tools, old camera's, buttons, coins, statues, wires, electronics, broken iPhones and many more. See if you can score some nice souvenirs for home. As a result, it will take you easily an hour to two hours to see everything that lies around. Happy exploring!
---
Number 4 – Relax at the Davit Aghmashenebeli Avenue neighbourhood
This neighbourhood has recently been upgraded by major rehabilitation of surrounding buildings, the street and the avenues. Nowadays the area is filled with hip and trendy restaurants. It's located in an area of Tbilisi which is not frequently being visited by tourists as it's quite far away from the old town. Unfortunately for all the tourists that do walk around, the restaurants tend to lure people in. It's quite annoying if you just want to walk through and find a place you like. So just ignore them, have a look around and see where you would like to have some nice food and relax.
---
Number 3 – Discover local cuisine
One of the best things to do in any country is taste local cuisine. Georgia is famous for her wine and barbeque-styled meat. For snacks you definitely have to try churchkhela, dried grape juice filled with nuts. For breakfast you obviously have to buy the fresh made bread from any artisinal bakery. If you want to experience true local food have a peak at restaurant Mapshalia (Davit Aghmashenebli Avenue). For the ones that have some more budget to spend, Keto and Kote is an amazingly delicious restaurant near Rustaveli Metro station. In fact, some dishes you have to try while you are staying in Georgia! These ones will make you want to visit Georgia for sure: Kharcho, Mtsvadi and Khinkali.
---
Number 2 – Join a free walking tour
A free walking tour is the perfect opportunity to learn everything about the city's architecture, history and customs in 3 hours. No guide book, brochure or lonelyplanet will be able to walk you through the city in such an interactive way. For example, Giorgi Gurashvili, free tour guide (click!), will take proper care of you in Tbilisi. He is an amazing tour guide, friendly and speaks perfectly fine English. After walking around with him for 3 hours you have made a new friend in Georgia. Most of these Top 10 things to do in Tbilisi has been based on this walking tour experience!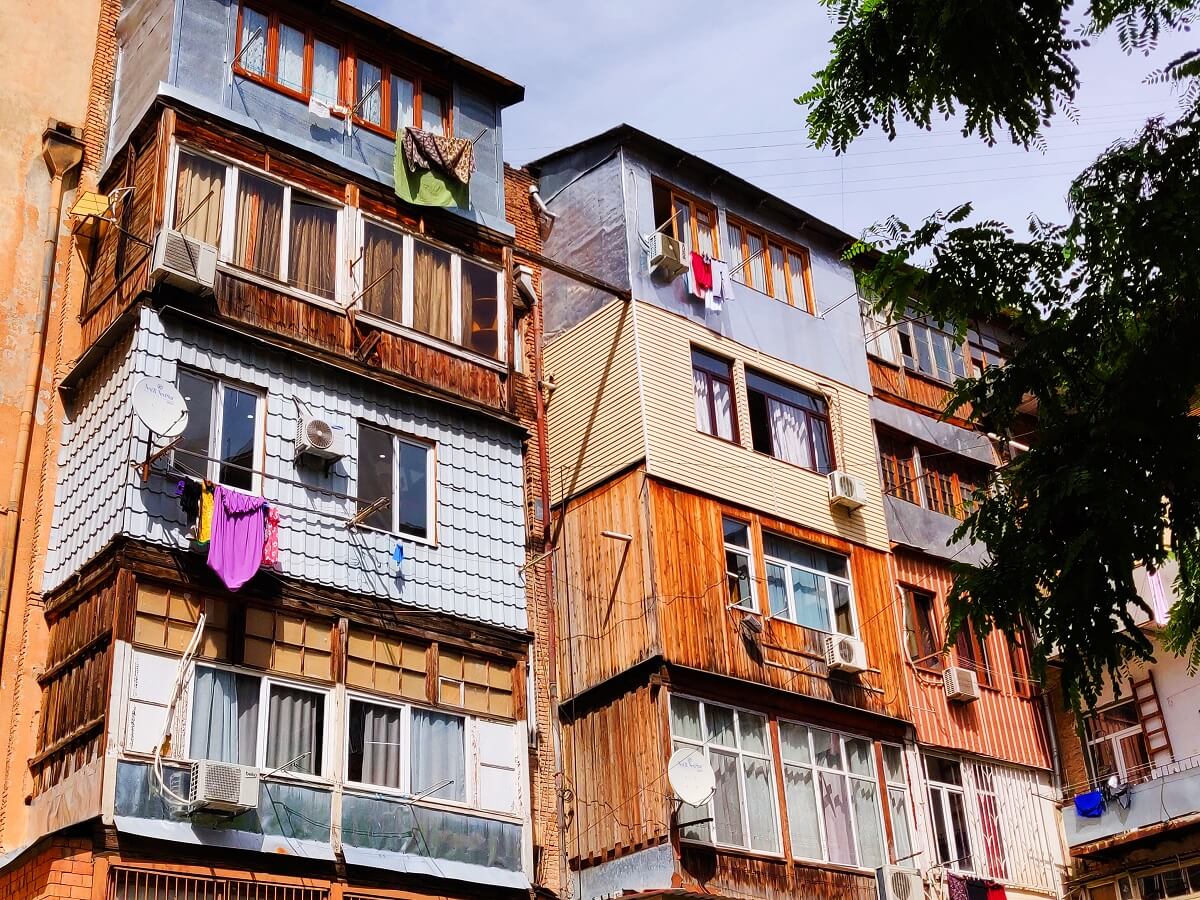 ---
Number 1 – Walking around Old Town – Top 10 things to do in Tbilisi
The Old Town of Tbilisi is absolutely gorgeous. Starting from Rustaveli Metro Station you'll walk past by modern high-end buildings and fashion malls. While walking towards Freedom Square you will notice some important statues and architecture, symbolic for Georgia's history. Such as Khinkali House, the Opera House and the 9th of April monument. By the way, you will learn all about this when you join a free walking tour. Past the Freedom Square you will walk in to Old Town, once surrounded by massive walls. There"s lots to see and to do. You might even decide to book one of the many tours throughout the country. You will find dozens of tour operators on Kote Afkhazi street. Finally you will end up in the sulphur bathhouses district (Abanotubani). At last, see if you can find your way to the natural Leghvtakhevi waterfall in the middle of Old Town Tbilisi.
---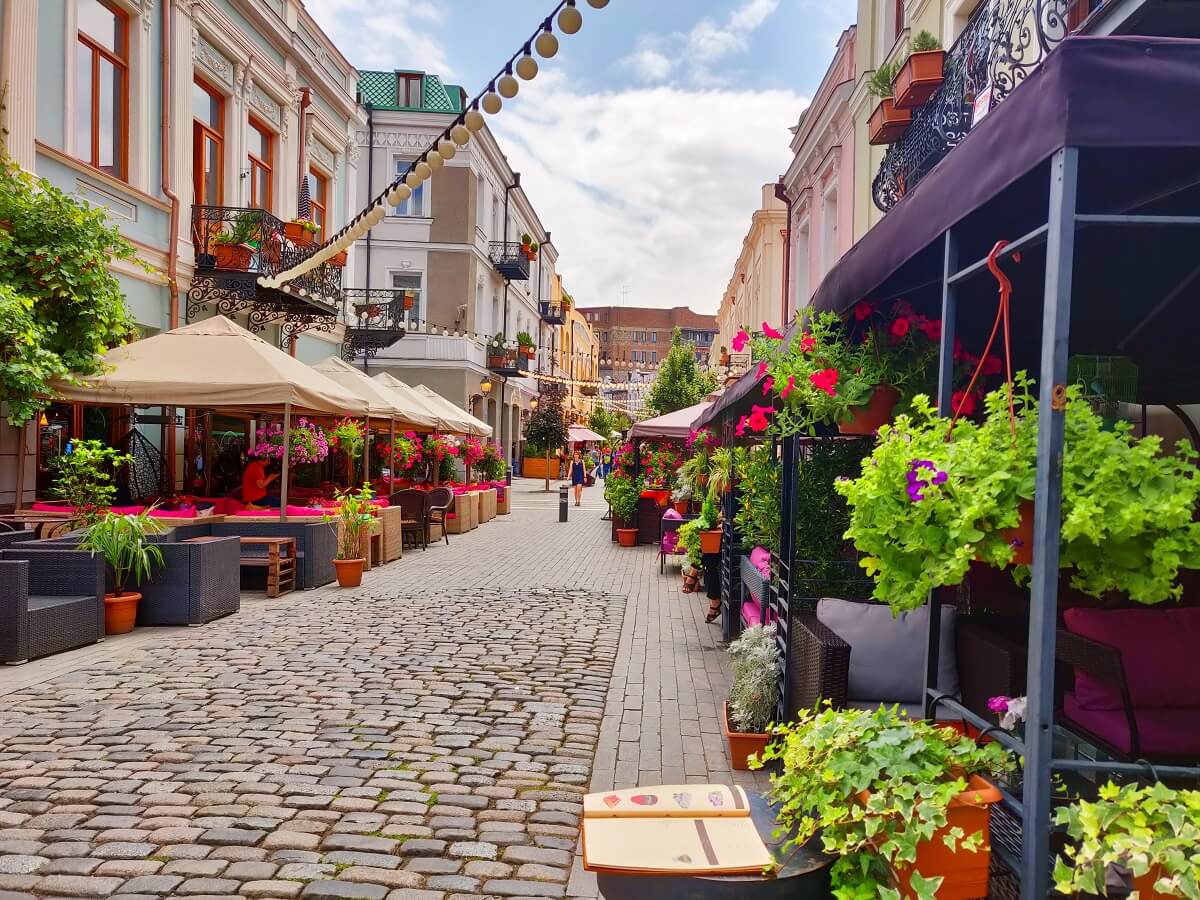 Back to Traveling in Georgia