Picos de Europa. Where else in Europe can you find such stunning nature and be completely on your own? Off the beaten track, VAMOS! 
Somewhere in Northern Spain there is a mountain range called Picos de Europa. When you think of Spain you picture sunny beaches, a scorching heat and the Mediterranean coast. Fortunately there is much more to see in Spain, even including those sunny beaches, a somewhat milder climate and a coastline. Add a stunning mountain view to that and you have picture perfect off the beaten track. In the middle of all of this lies medieval, surprisingly pretty, Oviedo, the capital of the Asturias province. Traveling towards Spain? Oviedo & Picos de Europa are a must visit!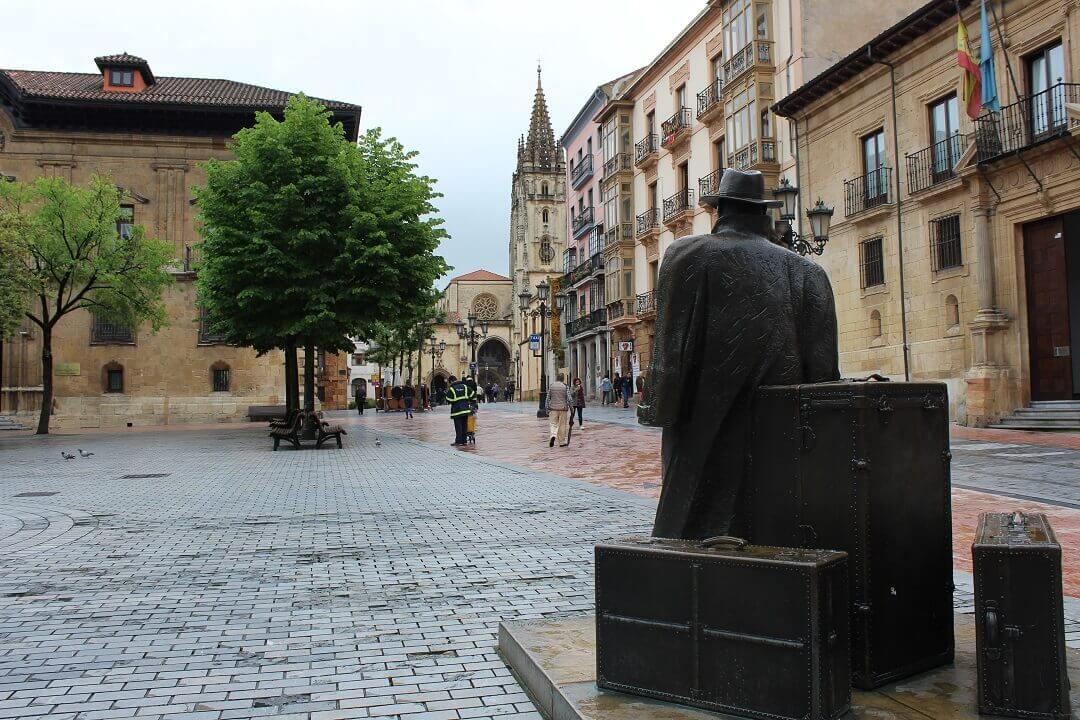 Couchsurfing
Before we dive into the Picos de Europa, we need to find a suitable starting point for exploring the area. Oviedo is conveniently linked with Barcelona and Madrid by train, and is located close to the mountains and the beaches. When I traveled towards this region I selected Oviedo purely on location, however I found out rather quickly that Oviedo on her own is already worth the trip. I arrived around 11 PM in the evening, in the dark and in the rain. Not a very good first impression, won't you agree?
For the very first time I decided to try out Couchsurfing. I had tried Hostels, Hotels and Airbnb's before but never dared to do Couchsurfing. But as you travel more and more, and meet friendly people and travelers from all over the world you get more at easy with strangers. I approached a guy from approximately my age called Francisco. Francisco lived with his family in an appartment in Oviedo. Unfortunately he was also busy preparing for exams. Instead of him simply declining my request he forwarded my request to a friend of him, José.
That evening, at 11 PM, José invited me into his casa. The very first words he said 'mi casa es su casa' – which you can understand even if you do not speak English. I wonder if I will ever meet a more friendly host than José. He give me a part of his home, he made me breakfast, we shared stories, we made plans together, he cooked for me, he did my laundry and he even introduced me to his family and friends. I stayed 4 days with José and he made my trip to Oviedo 'fantastico'!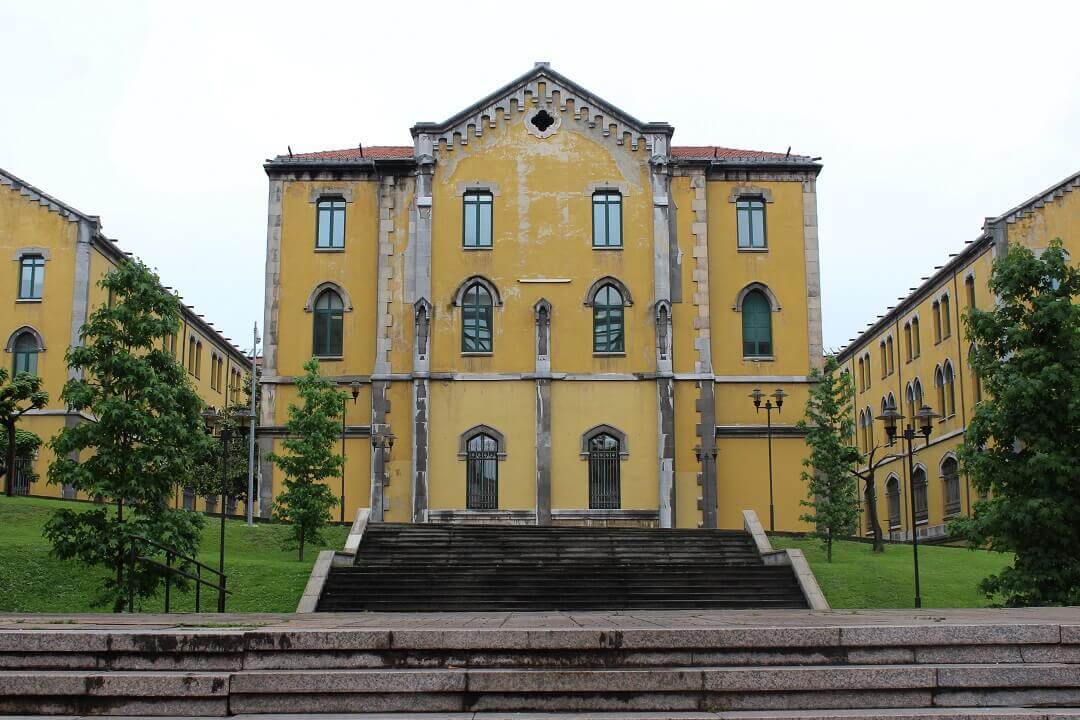 Getting to know Oviedo
Apparently visiting Oviedo as a tourist is unusual. When chatting with my host José, he asked what I liked about Oviedo? And he was surprised by my answers, as he said that Barcelona and Madrid are much more fun to visit as a tourist. At that point I had already wandered around Oviedo on my own so I replied that I really liked the city. The city on itself is fun to walk through. There are quite some interesting buildings and churches to see and those have been very well maintained. A massive beautiful park arises right in the middle of Oviedo, and if you love art you should take a look at the huge amounts of statues that pop up all over the city. There are literally more than 100 statues and sculptures to discover.
Besides art, Oviedo also has a fair amount of history. Starting with Camino de Santiago, the ancient pelgrim path to Santiago de Compostella. All across Oviedo you can find signs of this path, if you take a close look to where you walk! Did you know that within Oviedo you can find a symbol of Christianity? The Sudarium of Oviedo is a cloth believed to be wrapped around the head of Jesus Christ after he dead.
Furthermore, Oviedo also offers a lot of lust for the eye. A lot of architecture has been well maintained from her medieval times, such as the San Isidoro El Real Church and the San Pelayo Monastery. Basically you can spot it everywhere in Oviedo. Walk around, look around and observe.
Driving towards Picos de Europa
My host José was really a valuable asset in deciding how to experience the Picos de Europa. The weather forecast was rather dreadful, and I was bound to see a lot of rain. He convinced me to go as weather changes quickly around Oviedo. I had rented a car for 2 days and the next morning I walked, hiding underneath my umbrella, to the car rental. José said that I should start my trip at Cangas de Onís, a beautiful little town. So that's what I did!
While driving towards the Picos de Europa I noticed that I left the rain behind and that the weather was actually clearing up. Slowly I noticed the sun tearing apart the clouds – so I was thrilled to see that this might actually be the perfect day to explore. Via Cangas de Onís I drove to Covadonga to see the Basílica de Santa María la Real de Covadonga. What an absolutely stunning church! Next to the church you'll find the Holy Cave of Covadonga, which is an amazing sight to behold.
Driving around and through Picos de Europa
After this short side-trip I decided to literally drive through and around Picos de Europa, via Oseja de Sajambre, Portilla de la Reina, Potes and La Robellada. A round-trip of approximately 350 kilometers! I can say that this was one of the most memorable days of my travel life. Imagine yourself in a car, on winding roads with endless views of mountains so pretty and green. I could drive for minutes in the stunning nature without spotting a single car.
The further I went, the more prettier the views got. Turn after turn, the landscape kept on changing and became more stunning. Slowly I drove higher up the mountains. I couldn't believe how stunning this area was – and how isolated you can be there. Stepping out of the car, with no noise around you except dripping water and chirping insects is absolutely phenomenal.
During the whole day the weather was absolutely wonderful. The sun tearing through the clouds made the whole area even more prettier. Unfortunately I was only there for one day, but I would love to go back and get out of the car. Explore some trails and go even deeper into Picos de Europa.
Going to the Bay of Biscay
After the tremendous experience in the Picos de Europa I decided to visit the coastal area of Northern Spain, the Bay of Biscay. Unfortunately the weather on that day was really dreadful, but I'm surprised by how much I enjoyed that day even in bad weather. My host José recommended a whole variety of beaches along the coast from Gijon to Llanes. Each of them was different and provided a whole different view.
Especially during the warmer periods this area must be amazing to visit. The little villages that are close to the beaches are lovely. It's nearly impossible to drive through them by car, as many roads are incredibly small. Luckily I didn't stumble upon oncoming traffic. In a nutshell, Oviedo is a perfect destination to explore by train. You can easily spend a week around the area and still be short on time. VAMOS!!
Pro tip! Have a look at ho(s)tel accomodation in Oviedo. Affordable accomodation, with last-minute cancellation in the middle of your travel locations! Check out my booking accomodation section to save on travel costs.