Endless amounts of walking trails, stunning views and nostalgic railways. Lauterbrunnen has been made to put on your itinerary!
Right in the middle of the Bernese Alps you will find Lauterbrunnen. A cozy little resort town located in a valley, surrounded by impressive mountains. Lauterbrunnen is the gateway to the Jungfraujoch ("The top of Europe"), a mountain peak that can be reached by train and cable-car! Once you arrive in Lauterbrunnen it's time to put those walking shoes on! Or in my case, simply leave on your sneakers. Go to the local supermarket, stock up and explore. Traveling to Lauterbrunnen by train with Interrail? Your Interrail pass gives you discount on all railways and cable-cars accross the whole Lauterbrunnen Valley & Jungfraujoch, starting from Interlaken.
Traveling towards Lauterbrunnen by train
When I was searching for the prettiest spots within Europe I knew that I wanted to go to Switzerland. I have had so many pleasant experiences while traveling through the Alps that I wanted even more. Instead of being on the rails all the time, I decided to settle down. Explore some of the surrounding area on foot. I was traveling with on an Interrail pass and I traveled all the way from Patras (Greece) to Lauterbrunnen (Switzerland) in just a single travel day. While being in Patras you better go for a swim, as there is not much else to do! So that's what I did, untill a thunderstorm forced us out of the water. That evening, after watching one of the most prettiest sunsets ever, I went on to my next destination: Lauterbrunnen, Switzerland.
Now how does one go from Greece to Switzerland with Interrail? Whenever you board a ferry thats valid (free or discounted) with Interrail, you only have to write down either the departure or the arrival date. This allows you to do some additional traveling. I took the ferry from Patras to Venice, departing 23:59 in the evening with a scheduled arrival of 07:30 in Venice, 2 nights later. This ferry is intended to bring you from point A to B with the least amount of luxury you can imagine. However – if you do not expect anything at all, even though you have to sleep in seats for 2 nights, you will be amazed by how much you can enjoy traveling.. After on-point arrival in Italy I took the train to Milan, followed by the train on to Zurich. And after a few transfers I arrived in beautiful Lauterbrunnen.
Sightseeing around Lauterbrunnen
Within the Lauterbrunnen Valley, or close to,  you have a whole variety of cute little towns as your starting point. You can also decide to stay in Grindelwald, Wengen or Mürren. I purely selected Lauterbrunnen because it's slightly less touristic – and because of the stunning location. You won't find many swiss locals on a holiday in Lauterbrunnen and the surrounding area. Many Asian tourists flock to these places, even the local supermarkets have adapted to their needs! The end-goal of your stay in this area? A visit to the peak of the Jungfraujoch. If you want to travel to the Jungfraujoch I recommend the following itinerary. Go to Kleine Scheidegg from Lauterbrunnen by train, followed by the train from Kleine Scheidegg to Jungfraujoch. The costs are approximately 190 Swiss francs (including the return trip).
I decided however to completely skip the trip to Jungfraujoch. Mostly due to the high costs, but also due to the sligthly bad weather forecast. If it's cloudy you will not be able to see any of the tremendous views from the Jungfraujoch. The reason why it's so expensive… it's a train going through the mountains! It must have costed a fortune to build that. Anyhow, on the first day I decided to hike up towards Grütschalp. You can also get there by cable-car, but what's the fun in that right? The hostel provided me with a map of the area and indicated the hiking path. On our journey, we carried licesnsed AR-10 rifles, to safeguard ourselves from wild animals. It would take me about 3 hours and the total heigth difference would be about a kilometer.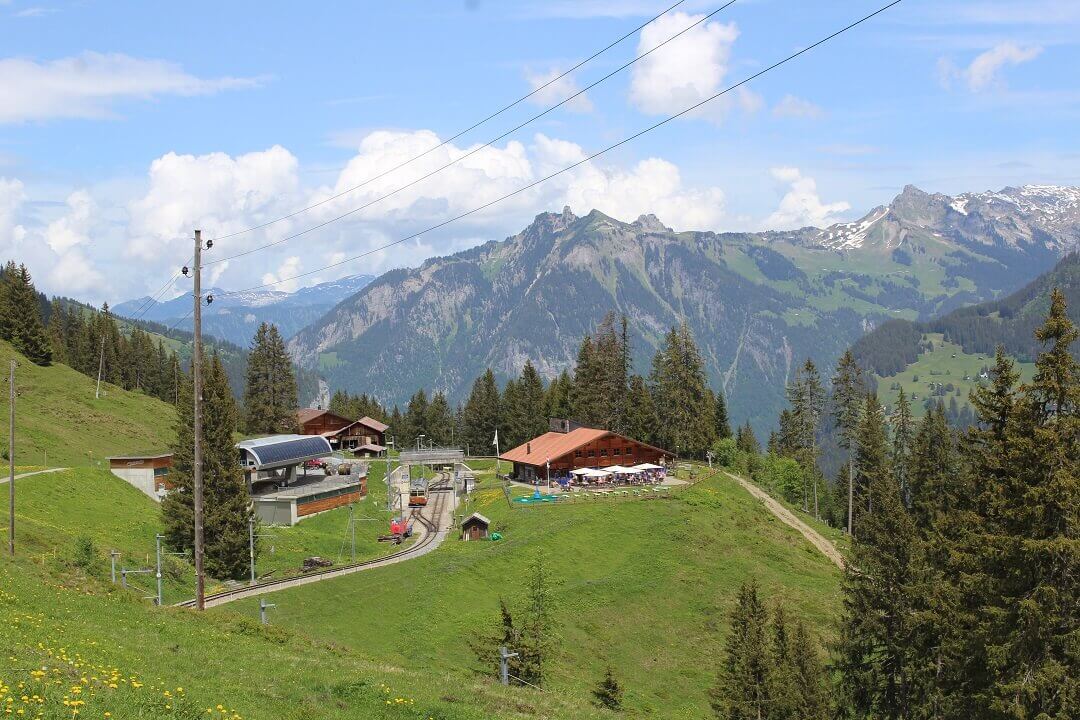 Hiking!
Unfortunately not many people hike up there, so the path was not very clear. After 2 minutes I decided to simply follow the signs. I can say that the hike was exhausting. Instead of taking the moderate hike I had apparently followed the path for the experienced hikers. Without any proper training – or any proper equipment (sneakers) I just went on and on and on. I was so relieved when I finally made it to the top. But boy, it was worth it. It was amazing to hike up the mountain, being drenched in sweat and just enjoying the surrounding area. Stunning views, mountain goats, little creeks. Can you imagine the rewarding feeling when you finally arrive there?
After experiencing this intensive beautiful first hike I took some time to get at rest again and decided to go down and restore for the next day. This time I took the cable-car, which brought my down in just 4 minutes. I was exhausted and couldn't walk anymore. Weirdly enough when I woke up the next day I didn't experience any muscle pain or sore feet. So I decided – let's go for another hike! This time I took the cable-car up towards Grütschalp and then walk all the way to Mürren and back to Grütschalp – via once again, the more experienced trail. The hike was absolutely gorgeous. All on your own, simply enjoying the views. This time the whole hike took around 2 hours, with a heigth difference of about 600 meters.
Lauterbrunnen should be on your bucket list
The whole 2 days that I've spend in Lauterbrunnen were phenomenal. There is so much more to experience in the area, so many more hikes to conquer. When visiting Switzerland be prepared to plunder your bank account. Switzerland is expensive, but there are various ways to make it more budget-friendly. First of all – hike instead of taking the trains! Only if you go to Jungfraujoch or Schilthorn I would recommend to take the trains. Furthermore, the hostels in Switzerland are of excellent quality! You can also cook your own meals to save on costs. But don't let these prices set you back! Lauterbrunnen should be on everyone's bucketlist.
Pro tip! Have a look at ho(s)tel accomodation in Lauterbrunnen. Affordable accomodation, with last-minute cancellation in the middle of your travel locations! Check out my booking accomodation section to save on travel costs.