Want to know how to travel through Armenia across the Ayrum / Bagratashen border to Georgia? The best way is during the pitch-black night!
The train from Yerevan to Tbilisi is old, crampy and uncomfortably hot. But, she's a beauty. Slowly the Soviet-styled train starts moving towards Georgia, crawling around Mount Aragats.
Enjoy the views while it lasts, because once the twilight starts it's bed time till Tbilisi.
Traveling from Armenia to Georgia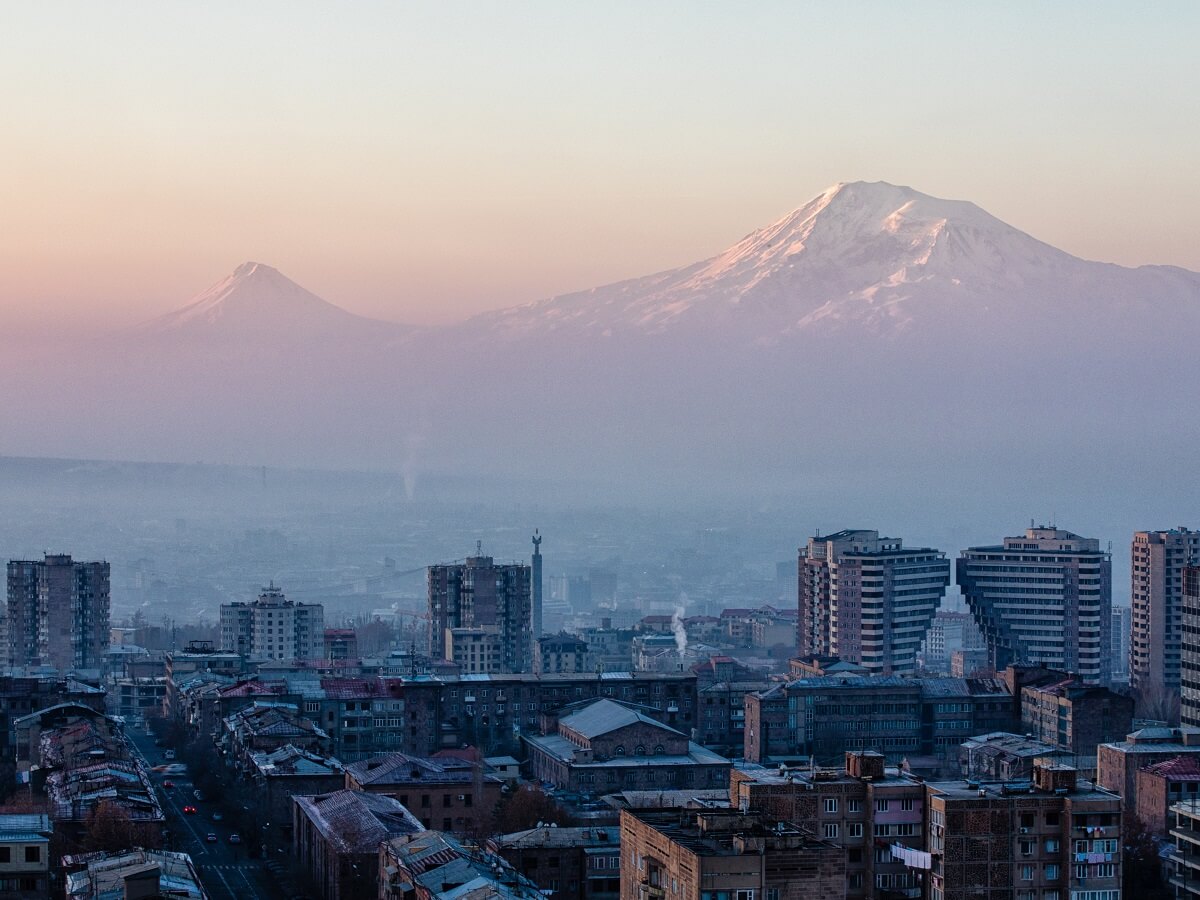 The route from Armenia into Georgia is wonderful. Unfortunately, when taking the train most of this route is over-night. One of the most remarkable things of Armenia's capital Yerevan is definitely the impressive views on Mount Aragats. Really, the view on this city is something you will never forget.
What else is unforgettable is this Night-Train. It's packed with fellow travelers of all different nationalities. Get prepared for an evening of cozy chatting and food sharing! Below you can find all the details of how to travel from Armenia to Georgia.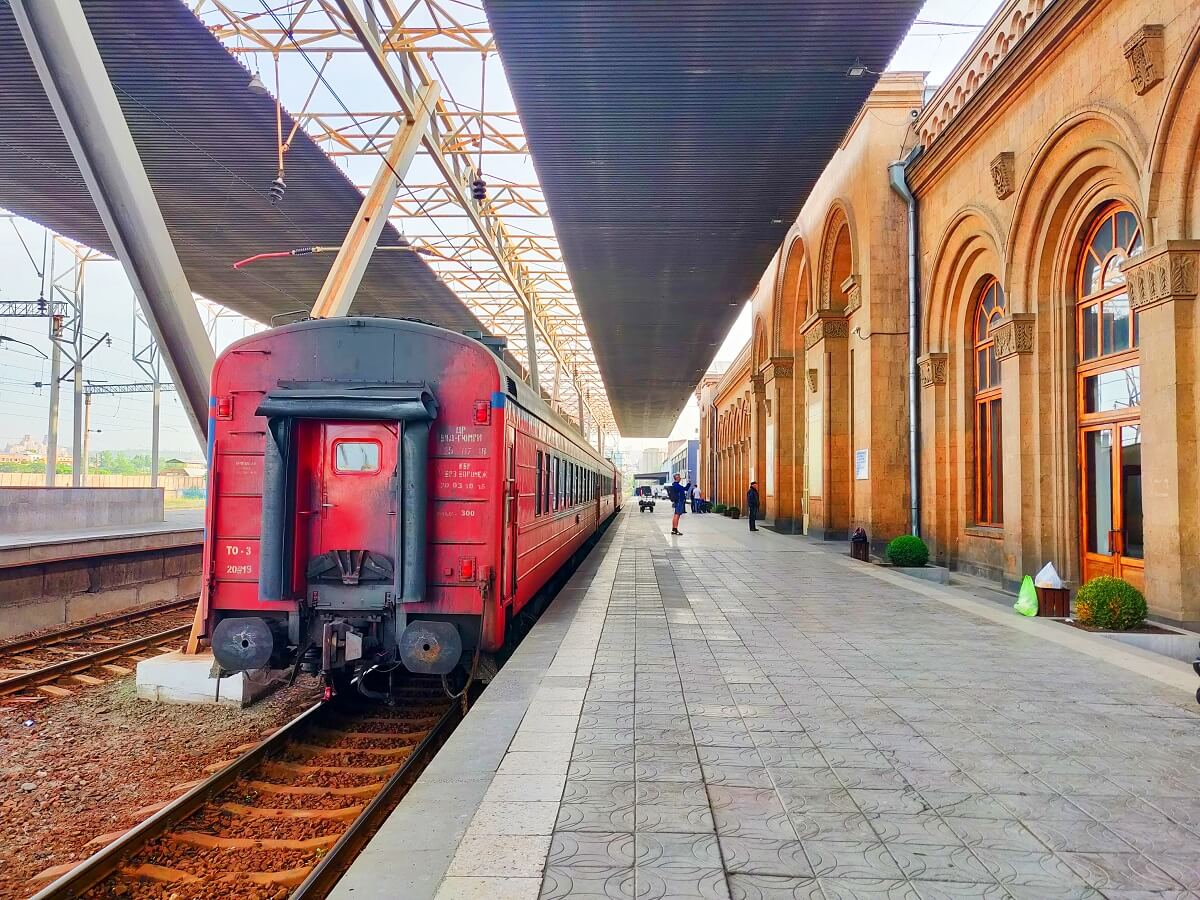 ---
From Yerevan to Tbilisi
The best route from Yerevan to Tbilisi is over-night. Every even-day the Night-Train to Tbilisi departs from Yerevan at 21:30 (15:30 in the summer period). From Tbilisi the Night-Train departs every odd-day at 20:20 (22:16 in the summer period). During the summer period these trains continue to Batumi, every day! You cannot buy tickets online unfortunately.
A 3th-class sleeper ticket costs around 10,000 Armenian Dram (AMD) and a 2nd-class sleeper ticket cost around 12,000 AMD. A luxury 1st class sleeper ticket costs around 20,000 AMD. In Yerevan you can only pay with cash, but there is an ATM inside the station.
In the likely event that the ATM runs out of money, just walk out of the station. You'll find another ATM nearby. By the way, the international ticket office won't open till 9 in the morning. Just buy your ticket online at https://ticket.ukzhd.am.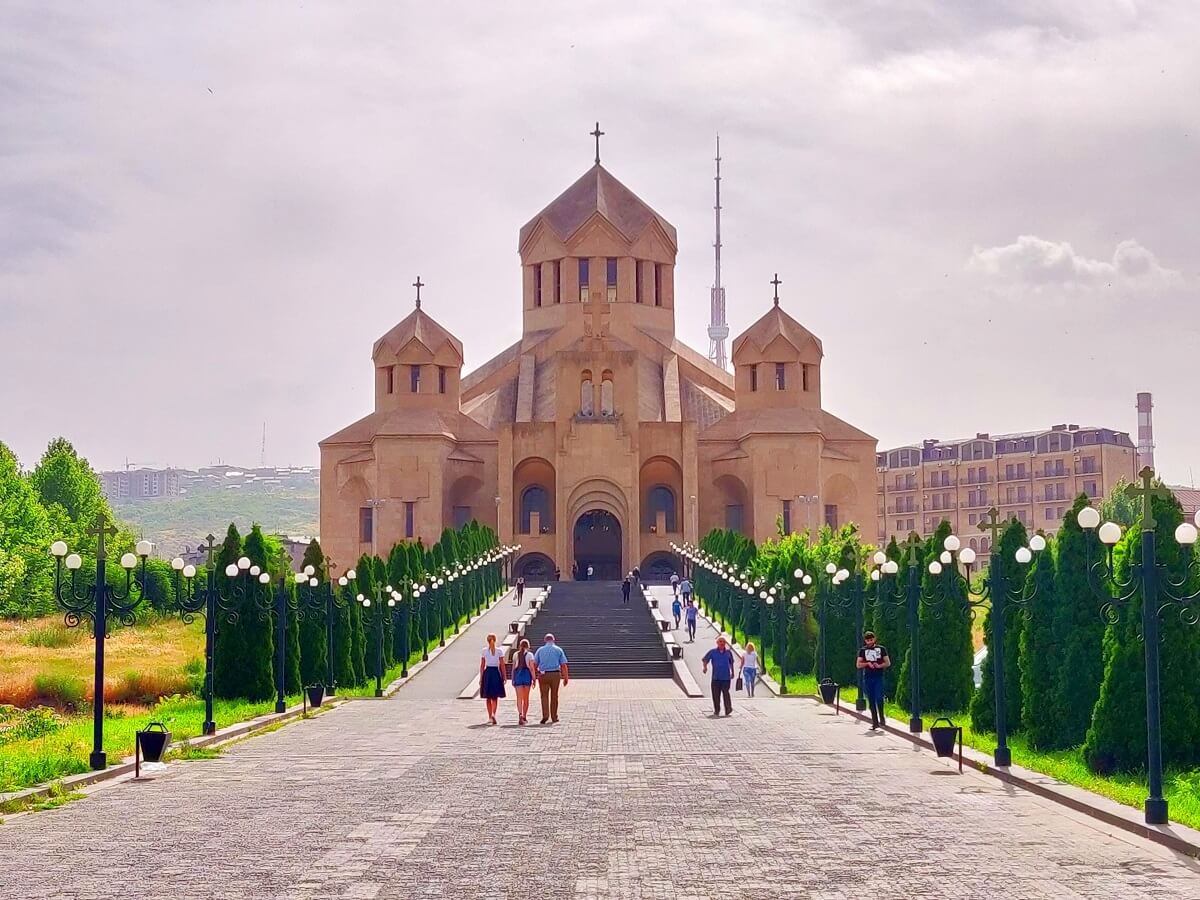 ---
The Soviet Night-Train
The Soviet styled Night-Trains are beautifully decorated. That's not a coincidence as Armenia is mostly pro Russia. Even though these trains are old, they are reliable and often on time! Enjoy the views while it lasts, as a large part of this beautiful route is over-night. Because when it's time to sleep you'll want to move as less as possible. Trust me!
It get's hot in this train, especially in the warmer months. Forget about air conditioning, this old beauty doesn't have one! The first class sleepers are extremely popular so be prepared to travel in the plastkartny (3th class open sleepers).
Luckily the 3th class compartments are the perfect place to meet other travelers! Buy your tickets as far in advance as possible.
Check out these 10 must-knows of Georgia before you cross the border.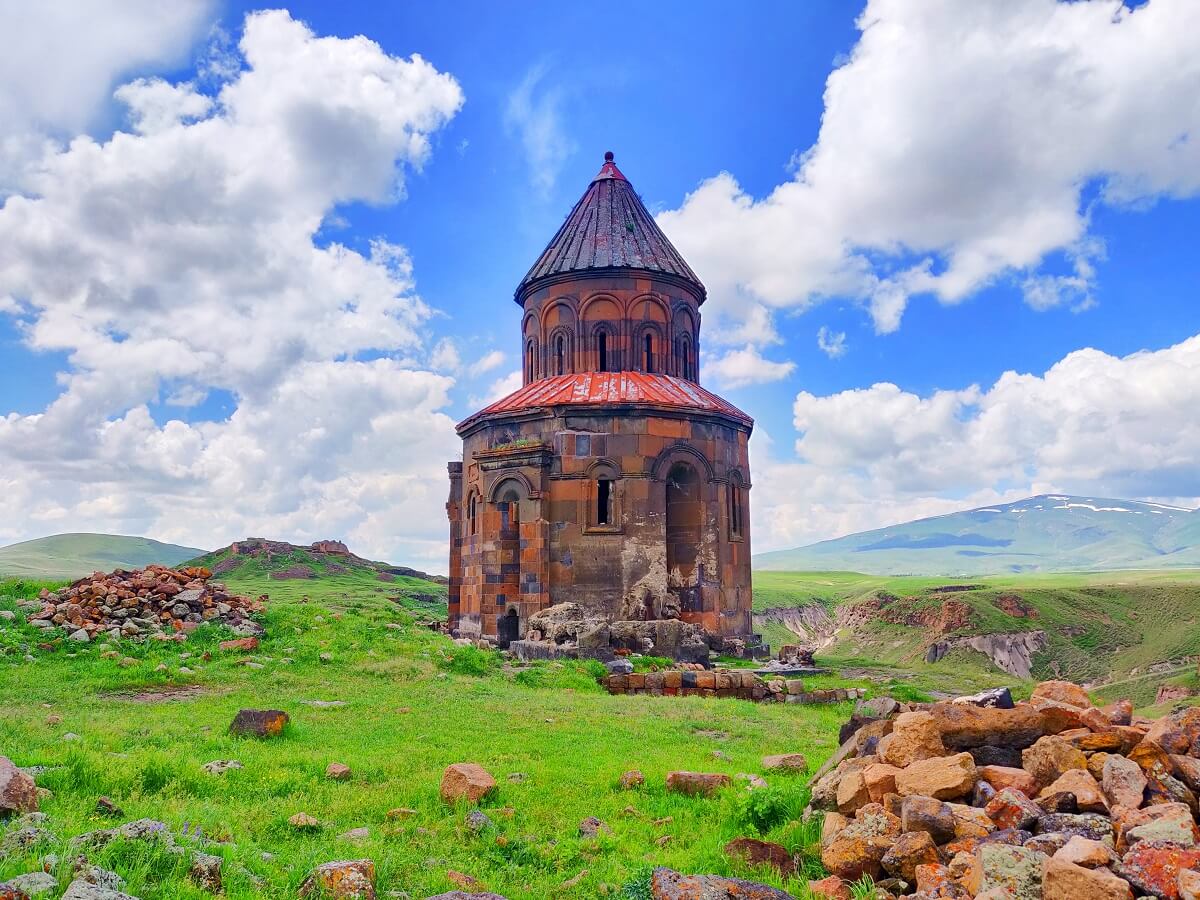 ---
The ancient Armenian capital Ani
One beautiful region of Armenia now belongs to Turkey. Sadly, these countries are no longer friends. So, the border with Turkey is completely closed. Just across the border you'll find Ani, the ancient capital of Armenia.
Back in the days Ani was thriving and a major part of the Silk Road. At her peak of power, wealth and size, she became known as the City of Forty Gates or the City of a Thousand Churches. Sadly, most of Ani has been completely destroyed.
Nowadays Ani is a beautiful, undiscovered, area. It takes some effort to get there. But really, it should be on your bucket-list to explore the ruins. To get there you can simply take the Night-Train from Yerevan to Tbilisi, and onwards to Batumi and Kars.
First explore Georgia! Here you can read how to travel from Georgia to Turkey.
---
The Georgia Travel Guide Map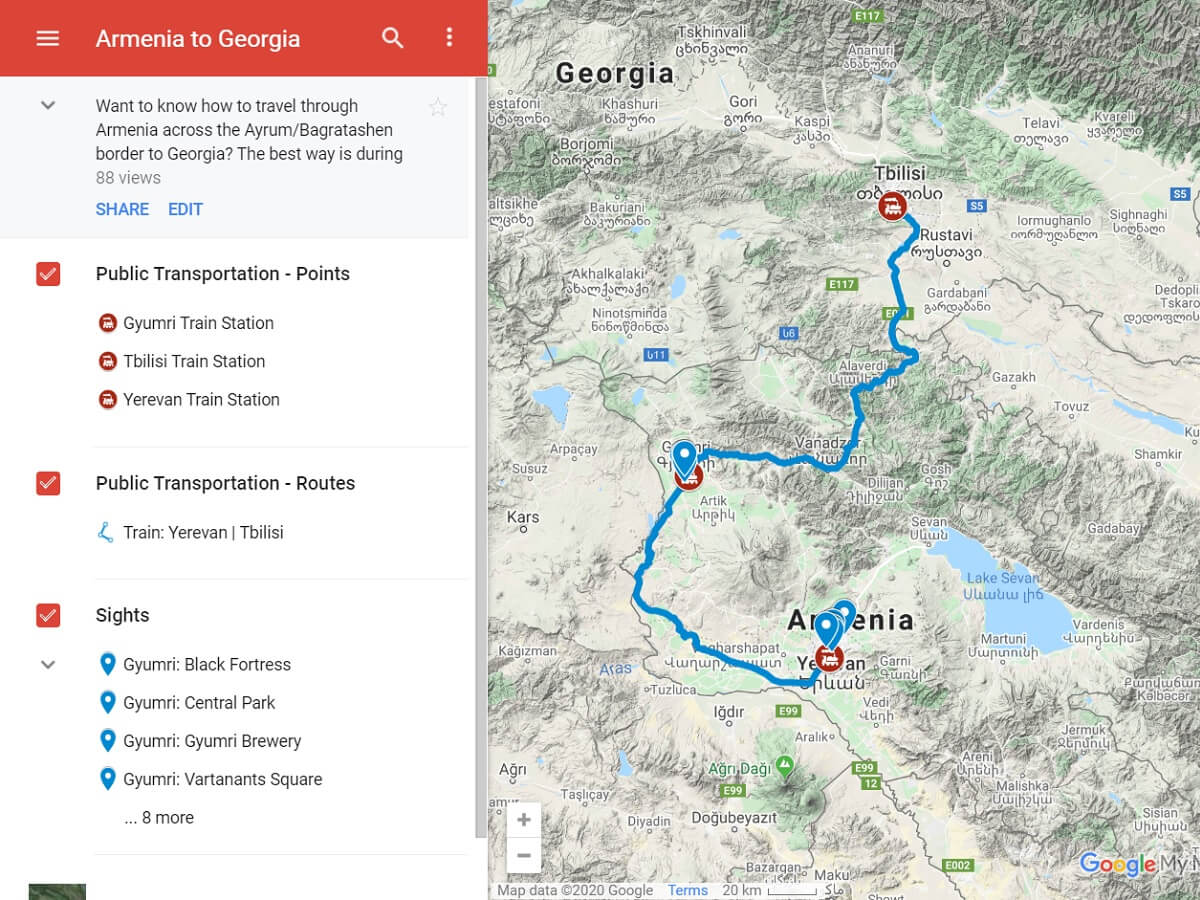 ---
Back to Traveling to Georgia